Warranty Terms
Part I. Warranty Service
1) One year for free repair, except the man-made damages.
2) As the incorrect use or over the warranty period, you need to pay fees of repair.
3) The freight fee of exchange for the problem of quality and free repair should be paid by both. But customers should pay the whole freight fee in case of the incorrect use or over the free warranty time.
4) Any change of address shall be intimated to concerned service centre for continuation of warranty. Warranty for the unexpired period shall continue after the product is inspected by the concerned service centre and the product is found free from transit damage. The customer shall have to pay a visiting charge towards inspection. In case of any transit damage, the product shall be repaired by the concerned service centre on charges and warranty for unexpired period to continue.
5) Repairs during warranty period shall be carried on "Carry In" basis. Wherein for service the purchaser shall bring the product to the Service Centre with whom the set is registered for warranty service. The warranty does not cover cost of transportation of system from place of installation to the Service Centre.
6) It is hard to pass the Chinese custom,so ,we donot accept refund and return .
Part II. Warranty scope
1) All the warranty partments must be the original products of China Roby Techonology.
2) In the event of repairs/replacement of any part/s of the unit, this warranty will thereafter continue and remain in force only for the unexpired period of the warranty. Moreover, the time taken for repair/replacement and in transit whether under the warranty or otherwise shall not be excluded from the warranty period.
3) The company or it's authorised service centre/ service dealer, reserves the right to retain any part/s or component/s replaced at it's discretion in the event of a defect noticed in the equipment during the warranty period.
4) The company's obligation under this warranty shall be limited to repairing or providing replacement of part/s, which are found to be detective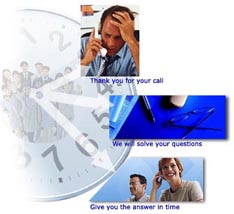 Part III.Inquiry service
The customers can use the following way to get IP phone sevice.
1) Directly dial our service phone
2) Send email to us
3) Contact our distributors/resellers.
See also


Products : VoIP phone,Gateway, Asterisk Cards


Profile : Roby Tech. is a professional VoIP devices manufacturer


News and Events : Roby Tech. released an Asterisk card


Factory Overview : The photos of the factory