Home

Profile

Company Culture
The Theme
Performance | Communication | Achievement
Company based on human and human based on duty.
Company based on human means company confirm and respect employee's value and status, develop human resource, and provide chance for everyone. Human based on duty means all employees work with his heart to customer, to company and to society.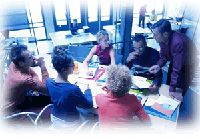 The Spirit
-Innovate and develop.
-Work together in harmony.
-Seek truth and practicality.

-Integrity and honesty.
These qualities are the cornerstones of Roby Tech., providing a foundation of respect both for others and for ourselves. Integrity and honesty guide us in all our business endeavors with customers, suppliers, or colleagues. We look for these values in the people we hire and do our best to foster them in our day-to-day work.
-Pursuit of excellence and results orientation.
Business results are our bottom-line objective. We believe that what gets measured gets accomplished, and we strive always to make our results measurable. We intend to bring the values of excellence to all locations where we do business, pursuing high standards of professionalism, accountability and performance.
-Innovation and creativity.
Roby Tech. encourages our people to take risks, always looking for new methods to break the rules of our industry. We pursue knowledge and challenge conventional wisdom . We evenlearn from our mistakes.
-Trust and respect.
Many organizations temper their effectiveness through hierarchy and one-way communication. We strive to avoid this trap by encouraging direct communication throughout all levels of the company and by soliciting constructive criticism where appropriate. We keep our commitments, deliver the results we promise, and tell the truth.
-Teamwork.
Without teamwork, we will accomplish nothing. We share know-how, rewards,responsibilities and support each other to reach the goals.